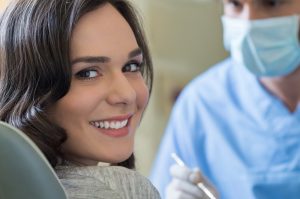 An implant dentist specializes in surgically placing dental implants into strong, healthy jawbone. Dental implants can be paired with dental crowns, bridges, or dentures to restore gaps left by missing teeth. Just as you would want a cosmetic dentist to carry out cosmetic treatment, or a pediatric dentist to administer care for a child, you should have an implant dentist perform dental implant placement. Fresno, CA dentist Dr. Claudia Denes has years of experience in placing dental implants.
Implants promote the maintenance of healthy bone density, eliminating the risk of possible jawbone degeneration and facial collapse. Implant dentist Dr. Denes, will use her experience and skill to successfully restore the health, function, and appearance of your smile with an implant-supported restoration.
A beautiful smile can help you feel confident. Call 559-297-1294 today to begin your smile restoration with Dr. Denes in Fresno, CA.
 What to Expect with Dental Implants
Missing teeth can occur for any number of reasons: poor oral health, gum disease, tooth decay. When patients have a severely damaged tooth that has lost the ability to function properly, implant dentist Dr. Denes will remove the nonfunctioning tooth to make room for the replacement.
In order to have successful results, you need solid bone density within your jawbone to support the implant. During your initial consultation, Dr. Denes will determine if bone grafting is necessary. Grafting enhances the strength and integrity of your bone, which will allow implants to effectively support your dental restoration.
Once your bone is fit for surgery, implant dentist Dr. Denes will create a small opening within your gums for the implant to rest. Each post is created from biocompatible titanium and will fully integrate into your bone. Over the course of four to six months, the implant post will become one with your mouth, and will provide a sturdy tooth root replacement.
If your jawbone is left inactive, it can begin to deteriorate. Implant dentist Dr. Denes uses dental implants to help maintain the integrity of your jawbone. Each time you bite down, the implant will stimulate the bone, eliminating deterioration and other possible side effects.
Why an Implant Dentist is Important
Choosing someone experienced in the field of implant dentistry allows you to significantly reduce your risk for complications. An implant dentist is committed to receiving the necessary qualifications and pursuing ongoing education to stay up-to-date on the latest techniques in dental implants. Dr. Denes specializes in placing dental implants and has performed many implant surgeries at her Fresno, CA, practice. She incorporates her years of experience and education to provide the best results for her patients. At your consultation, she will recommend a restorative device that will reestablish the appearance of your smile and restore the function of your teeth. Dr. Denes is someone you can trust and will provide you with smile-enhancing results.
A toothy smile not only appears healthier than one with missing teeth, but can restore your self-confidence and quality of life. Furthermore, failure to correct gaps can lead to undesirable teeth shifting and other serious oral health complications.
Possible Implant-Supported Restorations
There are many different restorative devices that are designed to attach to an implant. To replace a single missing tooth, a tooth-shaped cap, also known as a dental crown is placed over the implant. Dr. Denes will match the dental crown to surrounding teeth to ensure it blends seamlessly with your smile.
Patients who are missing one to three adjacent teeth may benefit more from a dental bridge. This custom-made restorative device fills in the unattractive gap left from missing teeth and is supported by two dental implants. Dr. Denes will fabricate a dental bridge in the perfect shade and size and attach each end to an implant.
For patients missing most or all their teeth in the upper or lower jaw, Dr. Denes can provide implant-supported dentures. This oral prosthetic attaches to implants to provide strong, unmovable results. Implant-retained dentures are more comfortable and easier to care for than traditional dentures. In most cases, you will only need four to six implants to fully support your restoration. We offer all-on-four implants to replace an entire row of teeth with just four implants. Learn more about this procedure by visiting our website.
For more information about dental implants with Dr. Denes, contact our office. Call 559-297-1294 today to speak with a friendly staff member.