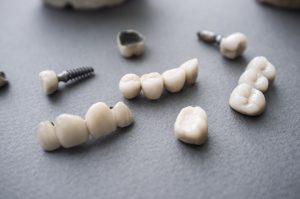 Maintaining dentures can be unpleasant and time consuming. Dropping them in the sink can easily break them and they can often be uncomfortable to wear. They also have a tendency to slip loose in your mouth when you most need to depend on them. Due to the associated bone loss, your jawbone will begin to deteriorate after ten years or more of wearing traditional dentures. Fresno, CA dentist Dr. Claudia Denes offers implant-retained dentures as a solution to all of these issues. With dental implants, you maintain healthy bone tissue and will never have to worry about your dentures falling out while enjoying your favorite meal.
To find out if implant-retained dentures are right for your tooth replacement needs, schedule your appointment with Dr. Denes at our Fresno, CA office today. Call 559-297-6823.  
Traditional Dentures 
Dentures provide patients with replacement teeth for several missing teeth or entire arches of teeth. If you think traditional, removable dentures are for you, Dr. Denes can fit you for your pair–but you should be aware of the limitations of dentures that are not supported by dental implants. Traditional dentures require a lot of maintenance and can limit you from enjoying your favorite meals. Traditional dentures are custom made for each patient, but can still cause discomfort at the end of the day, due to the friction against the soft gum tissue.
Because traditional dentures are not attached to the jawbone, this can lead to deterioration of the facial structure, which changes your appearance over time. Furthermore, traditional dentures will never completely feel like natural teeth.
Implant-Retained Dentures
The benefits of dental implants include maintaining your facial structure long term, while providing you with natural-looking and natural-feeling tooth replacement. Because your dentures will be firmly attached to your jaw, you will recapture the stable feeling of having natural teeth. You'll never have to worry about plates slipping loose and embarrassing you when dining with friends and family. Best of all, you'll have a full range of healthy foods on your menu again. You'll have the confidence to bite into apples, corn-on-the-cob, and nuts; foods that once dislodged your denture plates will be back on the menu!
Dental implants are surgically placed into healthy jawbone. They are made of biocompatible titanium bases and will fully integrate with your surrounding bone and tissues. For the first step towards dental implant dentures, Dr. Denes will get a good image of your mouth by using a CBCT scan (cone beam CT scan) to capture multiple images of your bones and facial structure in a single scan. This allows us to determine the status of your jawbone. Dental implants can only be placed into a healthy, well-maintained bone tissue. If you have worn dentures for many years already, you may need bone grafting to boost your bone mass before implants can be placed in your jaw.
Implants can take up to six months to fully heal. During this time period, osseointegration will occur, which means that new bone tissue will grow around the implants to fuse them with the jawbone. When this stage is complete, Dr. Denes will attach your customized dentures to the dental implants.
How Are We Different?
At Fresno Dental Studio, we take great care to make sure your dental implants will be a success. Dr. Denes will use a CBCT scan to view your mouth's structure. Using this complex and informative scan, she will develop a personalized therapy plan just for you. This plan will meet the unique surgical needs of your facial anatomy and provide you with the most appropriately placed implants. You will be given a copy of your 3D printer surgical guide, to keep you fully informed about what will occur during your implant placement surgery.
To find out if your best option is implant-retained dentures, schedule your appointment with Dr. Denes today. Call our Fresno, CA office at 559-297-6823.