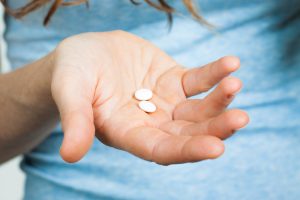 Dental fear is a real condition that affects many Americans. This condition is commonly a result of a bad past experience at the dentist's office. Patients with dental fear avoid going to the dentist and develop oral conditions as a consequence. Fresno, CA sedation dentist Dr. Claudia Denes recommends oral sedation to ease the nerves of anxious patients so that they can receive the dental work they need.
At Fresno Dental Studio, Dr. Denes offers three medications to calm nervous patients and create a comfortable dental experience. Ativan, Restoril, and Valium are taken orally and become effective about an hour after ingestion.
In addition to sedative medications, Dr. Denes comforts fearful patients by listening to their concerns. At your consultation, she will create a warm, welcoming environment so that you feel safe. She will ask about your past experiences, so she can develop the most appropriate treatment plan for you. Your worries and concerns are taken into consideration when Dr. Denes prescribes the ideal sedative for you.
Interested in discussing oral sedation with Dr. Denes? Call 559-297-1294 to schedule an appointment in Fresno, CA today.
What Will Happen at My Consultation?
At your consultation with sedation dentist Dr. Denes, she will examine your teeth to determine which procedures will benefit you the most. At Fresno Dental Studio, we offer general, restorative, preventative, and cosmetic dental treatment.
In most examinations, Dr. Denes will perform a cone beam computed tomography (CBCT) scan. This cone shaped x-ray machine takes a scan to create a detailed 3D image of nerve paths, bone, and tissues in the craniofacial region. CBCT scans can show impacted teeth, as well as ideal placement for dental implants. Dr. Denes uses CBCT scans to create precise treatment plans that are unique for each patient.
Consequences of Avoiding the Dentist
Nobody asks for dental fear. However, there are consequences of avoiding the dentist. Oral conditions, such as periodontal disease and tooth decay, often develop as a result of missing biannual dental checkups.
Additionally, avoiding the dentist can lead to cavities, toothaches, tooth sensitivity, and poor oral health. Not to mention, feeling ashamed of your smile causes embarrassment.
The Solution: A Sedation Dentist
Instead of avoiding the dentist and accumulating dental issues, Dr. Denes recommends scheduling an appointment to discuss oral sedation. At Fresno Dental Studio, we use two doses of oral sedation for patients with dental fear.
The first dose is taken the night before your dental procedure. Dr. Denes prescribes this dose so that patients can get a good nights rest before coming to their appointment. Patients with dental fear often dwell on their upcoming procedure, which inhibits their ability to rest peacefully before their dental visit.
Dr. Denes will instruct you to take the second dose an hour before your appointment. This dose calms anxious nerves and allows patients to feel relaxed and comfortable while Dr. Denes performs the dental procedure.
Valium, Restoril, and Ativan elicit feelings of drowsiness and relaxation. Ativan is the strongest of the three medications. After discussing your dental fear, Dr. Denes will recommend the most appropriate sedative for you. If you have questions about each medication, ask Dr. Denes during your consultation. Aside from her professional opinion, it's important that your concerns are brought to light when determining which oral sedative is right for you.
Call 559-297-1294 to schedule your appointment with sedation dentist Dr. Denes in Fresno, CA. Our office looks forward to answering your questions and helping you receive the dental treatment you need.