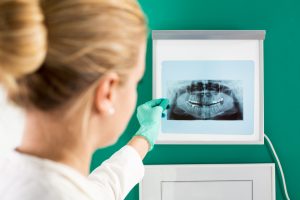 A surgical guide enables a dentist to precisely place implants in the jawbone. Essential to achieving optimal results, digital treatment planning involves using an intraoral scanner and a cone beam computed tomography (CBCT) machine to take images of a patient's mouth. The detailed visuals of the soft and hard tissues of the mouth system then aid in producing an individualized guide for the dentist to use during implant surgery. Guided implant surgery is a revolutionary advancement that takes the guesswork out of implant placement.
At Fresno Dental Scan, we use state-of-the-art equipment for imaging sessions to plan your implant surgery. Schedule an appointment at our Fresno, CA office by calling (559) 297-6823.
Digital Treatment Planning
The process of planning one's implant procedure includes an imaging session, planning period, and surgical guide creation. The imaging session takes about as long as a typical appointment at the dentist's office. The planning period involves Dr. Denes examining the images of the teeth, gums, sinuses, and nerve pathways produced from the imaging session. If he finds that you will need bone grafting prior to receiving implants, he will inform you and design a treatment plan with you. If your oral health allows the implant surgery, he will then create a surgical guide from the images obtained from the scans.
CBCT Scanners
Like a traditional x-ray machine, a CBCT machine uses radiation to produce images of a patient's mouth.  The CBCT machine differs from an x-ray machine because it uses a cone-shaped beam of radiation that generates details of a patient's soft and hard mouth tissues unobtainable from a typical x-ray beam. The high-quality images, also called views, show the jawbone, dentition, and bone structure of the face, as well as muscles, lymph nodes, glands, and nerves. Combined with images from an intraoral scanner, the CBCT scan serves the dentist in planning the implant surgery.
Intraoral Scanners
An intraoral scanner takes images to create a virtual, digital copy of the mouth. Scanners can range in size and capability. Some scanners that have an auto-locate feature enable the dentist to re-scan specific parts of the mouth missing information, unlike traditional impressions that necessitate a new cast and mold entirely. Intraoral scanning eliminates the risk of patients gagging, which can occur with conventional impressions.
Surgical Implant Guide Fabrication
From the views and images produced by a CBCT machine and intraoral scanner, an implant dentist can fabricate a three-dimensional model that shows locations for implant placement. This surgical guide rests on top of the gums during surgery and helps ensure accurate placement of implant posts for ideal results.
Implant Surgery
Implant surgery typically takes two to three hours. You should allow yourself time to rest afterward. If you find yourself nervous about the procedure or unable to sit comfortably for that time, you can discuss sedation dentistry with Dr. Denes to help ease your apprehension and enjoy a more comfortable experience.
During the implant surgery, Dr. Denes places the surgical guide over the gums. The location at which your implants will be placed show through the surgical guide. In addition to location, the guide also indicates angle and other details for placing the implants. Depending on whether you need a single dental implant, an implant-supported bridge, or implant-based dentures, Dr. Denes might place the permanent, visible part of the prosthetic the same day.
Contact Us to Learn More about Guided Implant Surgery
If you have considered implants to replace missing teeth, contact Fresno Dental Scan to help you with your digital treatment planning needs. Schedule an appointment at our Fresno, CA dental scan office by calling (559) 297-6823.