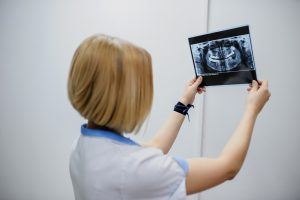 Dental implants replace missing teeth, lost because of accidents or disease. Implants can help mitigate the effects of missing teeth, such as: pronunciation differences or speaking difficulty; teeth shifting into empty spaces; and bone loss in the jaw. Because implants are permanent, proper placement is critical to a successful procedure.
Using imaging technology, an implant dentist surgically places implant posts into premium locations in the jaw, where bone is densest. Intraoral scanners and CBCT scans, or cone beam computed tomography, help the dentist ensure structural and biological integrity of the jaw. Dr. Denes at Fresno Dental Scan has invested in the imaging equipment to maximize knowledge of a patient's anatomy, prior to implant surgery. This added visual component of diagnosis and treatment planning improves the dentist's ability to precisely secure implants in the ideal location, to optimize results. Call Fresno Dental today at 559-297-6823 to learn more about the process.
Intraoral Scanners
Like any camera, intraoral scanners take detailed images of a patient's mouth. These scanners vary in size, method of scanning (hovering versus resting on teeth), ability to capture color, and time required to capture a scan.
Implant dentists use an intraoral scanner during an imaging session, producing models of teeth and eliminating the need for conventional impressions. An imaging session takes as much time as a typical office visit.
Intraoral scanners benefit implant dentists and patients for these reasons:
Dentists can rescan areas without starting the scan over completely; with a cast, a totally new impression would need to be made.
Patients do not have to give an impression of their teeth with a mixture in a cast, which can cause gagging and has a foul taste, to some people.
Dentists and patients have instant access to digital records, which makes access and transfer of records quick and easy.
CBCT Scans
A dental cone beam CT scan differs from intraoral scanning in that it requires an x-ray machine that produces 3D images of the jaws, teeth, and soft tissue. Because a CBCT scan is an x-ray, it does involve minimal exposure to radiation. Patients will have to remove jewelry, eyeglasses, hearing aids, and other materials that might interfere with the CBCT scan, which typically takes about thirty minutes.
Using an x-ray beam in the shape of a cone, a CBCT scan gives the implant dentist detailed information that includes dimensions and density of the jaw, teeth root locations, and nerve pathways. After the scan, the implant dentist has a high-quality 3D image to use for case planning.
CBCT can support implant surgery success because of the following:
Better image quality with the cone x-ray beam
Multiple views from one scan
Images both bone and soft tissue simultaneously
What Happens After the Scans?
Intraoral scans and CBCT scans are comfortable, noninvasive, and highly accurate, providing the dentist with valuable information unavailable through other means. The dentist will use the images produced by an intraoral scanner and a CBCT scan to create a virtual model of the jaw to plan dental implant placement. In some cases, a wax model is the next step in case planning.
To learn more about intraoral scanning and cone beam computed tomography, visit Fresno Dental. Dr. Alex Denes of Fresno Dental Studio is accepting new patients, so call today at 559-297-6823.