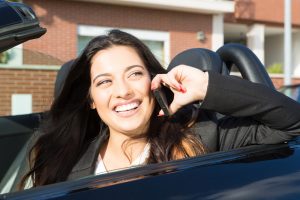 Your confidence quickly decreases when you're embarrassed to smile in public. At Fresno Dental Studio, we give patients an entirely new smile through a series of complex dental treatment. Fresno, CA dentist Dr. Claudia Denes incorporates restorative and cosmetic dentistry to enhance your appearance and increase your confidence levels. Patients with missing, broken, or chipped teeth are ideal candidates for full mouth reconstruction, which is a combination of various complex dental treatments. Those who suffer from TMJ disorder benefit from full mouth reconstruction as well.
After a complete examination of your teeth, jaws, and gums, Dr. Denes will create a precise treatment plan that depicts the most appropriate dental procedures for your unique needs. She takes a cone beam computed tomography (CBCT) scan of your oral structures, which will aid her in the creation of your individualized treatment plan.
Are you ready to correct your smile flaws so that you're enthusiastic about your appearance? If so, call 559-297-1294 to schedule your appointment with Dr. Denes in Fresno, CA today.
What Is a CBCT Scan? 
CBCT scans use advanced technology to depict multiple oral structures in a single 3D image. One scan can show nerve paths and craniofacial bone. Dr. Denes incorporates CBCT scans so that she can make a diagnosis based on facts, rather than mere assumptions. Although this specialized x-ray machine emits higher levels of radiation than ordinary radiographs, Dr. Denes only needs to perform a single scan to gather all the information needed to create a detailed treatment plan.
TMJ Disorder and Full Mouth Reconstruction
Dr. Denes recommends complex dental treatment for patients who suffer from TMJ disorder. This condition is caused by malocclusion, extreme tension on the temporomandibular joints, missing teeth, or bruxism.
TMJ disorder causes patients to experience extreme jaw pain, frequent migraines and headaches, earaches, toothaches, tooth sensitivity and upper body stiffness. Some patients report a ringing sensation in their ears and numbness in their extremities when they suffer from TMJ disorder.
Occlusion (bite) plays a large role in preparing for full mouth reconstruction. Before Dr. Denes can begin your complex dental treatment, she must first assess your bite. Malocclusion (bad bite) that isn't corrected will revert any restorative procedures that you undergo.
Complex Dental Treatment Procedure
Along with correcting your bite, Dr. Denes will examine the condition of your gums before she begins any complex dental treatment. Gums are an important part in establishing a healthy dental base, which is needed for successful outcomes. She will also test the strength of your jawbone. If your jawbone is lacking strength or health, she recommends bone grafting to create an ideal base for upcoming procedures.
Once occlusion has been corrected and oral structures have been looked at, Dr. Denes will determine appropriate cosmetic procedures to finalize your full mouth reconstruction.
At Fresno Dental Studio, we offer the following cosmetic procedures:
Porcelain veneers
Dental implants
Bonding
Professional teeth whitening
Porcelain crowns
After complex dental treatment and cosmetic procedures, you will have an entirely new smile. Dr. Denes is confident that you'll want to show your smile off to everyone when your full mouth reconstruction is complete. Along with esthetically enhancing your smile, complex dental treatment corrects poorly functioning mouths.
Ready to schedule your full mouth reconstruction in Fresno, CA? Give us a call at 559-297-1294 to book an appointment with Dr. Denes today. We look forward to hearing from you!