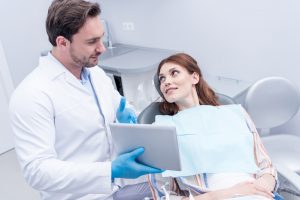 Thanks to advancements in recent technology, dentists have the ability to create more precise treatment plans for patients. Dr. Claudia Denes in Fresno, CA uses cone beam scans, digital x-rays, and electronic records to move her office into the modern era. Cone beam computed tomography (CBCT) captures multiple images in a single scan. Dr. Denes uses these images to create a more accurate diagnosis and an appropriate treatment plan. Digital x-rays use almost 90 percent less radiation than traditional x-rays, which makes them an appealing option for most patients. In addition, we also store all our patient information electronically. Digitizing our patient records not only makes them more secure, but allows us to easily transfer patient information to specialists when needed. The combination of these three technologies, and others, gives our patients the level of care we believe they deserve. We continually invest in the tools and training to bring the best of modern dentistry to our patients.
For more information on how we use dental technology in-office, schedule an appointment today with Dr. Denes in Fresno, CA. You can reach us online or by calling 559-297-1294.
CBCT Scans
A cone beam CT scan captures advanced images in a single scan. In one image, we're able to look at soft tissues, nerve paths, bone, teeth roots, and other dental structures. Dr. Denes uses CBCT scans to make an accurate diagnosis, which allows her to create the best treatment plan for the unique needs of each patient. We commonly use a CBCT scan for orthodontic treatment planning; however, it is also used to improve surgical plans for dental implant placement and for the diagnosis of TMJ disorder.
CBCT scans emit a slightly higher level of radiation than traditional scans. The benefit is that we get more information from a single CBCT scan than from multiple radiographs. In addition, multiple radiographs would subject the patient to more radiation than a single cone beam scan.
Digital X-Rays
At Fresno Dental Studio, we use digital x-rays, rather than traditional because they're safer and more efficient. Digital images are easier to obtain in a timely manner, which means we receive results faster. Once images are captured, they are immediately uploaded to a chair-side computer. In addition, the images produced are more precise than the ones captured with traditional x-rays. Many patients prefer this form of imaging due to the lower radiation levels. Digital x-rays use almost 90 percent less radiation than tradition x-rays, which makes them a safer, more appealing option.
Digital radiographs are an essential part of digital treatment planning. Dr. Denes uses these images to create a detailed diagnosis for each patient.
Electronic Records
Dr. Denes has transitioned our patient charts to digital records. We can securely store records and quickly transfer them to specialists when needed. Unlike paper charts, electronic records can be promptly accessed. They are not subject to water damage, smudging, or even accidently thrown away, which are common issues when dealing with hard copies.
We find the use of electronic records more appealing because they offer security and confidentiality for our patients. We're devoted to providing efficient service to each of our patients. Instead of spending our time filing and finding charts, they're stored at our fingertips for speedy retrieval.
Digital Dental Treatment Planning
Digitalizing our office has made it easier to provide accurate and thorough results for our patients. Dr. Denes plans treatment by the facts she finds in digital scans and radiographs. Basing treatment on solid facts, rather than assumptions allows for more predictable results. She believes that investing in these technologies allows us to provide superb care.
Contact our Fresno, CA today to schedule your consultation with Dr. Denes by calling 559-297-1294.