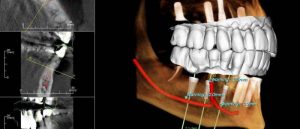 For a layperson, dental implants may seem a simple procedure. You have a space in your jaw where you've lost a tooth, so that's obviously where the implant will go, right? It gets slightly more complicated if you've lost more than one tooth, even more so if you are in need of implant dentures or partial dentures. Since implants are meant to be a permanent solution to tooth loss, their placement is a very precise matter.
Implant placement becomes even more precarious when a patient has oral health concerns or has lost bone density due to tooth loss. What most people don't think about is the fact that our jaw bone mass is maintained by the presence of living teeth. When teeth are no longer present in the jaw, bone mass slowly starts to be re-absorbed by the body. This can makes finding the ideal location for implants a tricky matter, indeed.
If implants are not placed in the optimal location in the jaw, you may wind up with an implant that doesn't stabilize. If bone loss is a problem, the new bone growth that stabilizes implants may happen too slow or not at all. Oral and overall health issues can affect healing, as well. In order to make sure your dental implants are going to heal properly and last, you really need to seek out a dentist who understands all the issues and uses the best diagnostic and planning tools.
Are you considering implant surgery? Fresno Dental Scan can provide you with the imaging and CT scans to make your surgery a success. Call our Fresno office at 559-297-6823 or visit our services page to learn more about what we can do for your implant procedure.
What Tools Make Implant Placement Effective?
A great implant dentist needs very specific tools to make sure the placement of implants will be structurally and biologically sound. If your implant dentist doesn't use these tools with every placement, there is too much room for error and you may risk complications.
Intraoral Scanners – An intraoral camera replaces the need for traditional dental impressions and captures the precise shape and dimensions of each patient's unique dentition.
CBCT Scans – Cone beam computed tomography scans are miles beyond traditional radiography scans, and create three dimensional and cross-sectional images of the structures of your maxillofacial anatomy. They reveal the dimensions and density of different hard and soft tissues of the jaw, and can help your dentist plan the optimal placement of your implants.
3D Imaging Software – Using the scans taken from a CBCT scanner and intraoral camera, your dentist can create detailed virtual models of the jaw, and can create a precise plan to take the guesswork out of surgical placement.
CAD/CAM and 3D Printer: Computer-aided design and manufacturing use data from a CT scans to create a surgical treatment plan. A three-dimensional printer can make a customized model, to guide the placement of implants in each patient's unique anatomy.
To learn more about the importance of cone beam computed tomography, visit Fresno Dental Scan. Our office is operated by implant dentist Dr. Alex Denes of Fresno Dental Studio.We provide computed tomography scans and 3D imaging for dentists and patients planning a future dental implant surgery. Learn more about our services here.