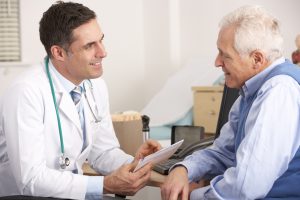 The success rate of your dental implants is dependent on a number of factors, including who you choose to perform the implant procedure, and where the implants are placed being two of the most important. Choosing a qualified implant dentist who has a high success rate will ensure you achieve the most desirable results. While it may be tempting to make cost the deciding factor in your treatment plan, this could be detrimental to your outcome. Although experienced implant dentists may come at a higher price point, many today offer specials to make care more affordable for their patients.
When meeting with your potential implant dentist, there are a few important questions to ask to help you in deciding who to choose to perform dental implant surgery. Please continue reading to learn more, or we invite you to schedule a private consultation with Dr. Denes by contacting us at our Fresno, CA practice online or calling 559-297-1294.
What Are Your Qualifications?
According to federal and state law, every dentist must be certified to practice general dentistry. However, placing dental implants requires additional certifications and training. When meeting with your potential implant dentist, ask him or her what kind of training they have received and how many dental implant procedures they have performed. This will help you gauge both their educational training and level of experience.
What Is Your Success Rate?
Experienced implant dentists generally keep up with the success rate of their procedures and the satisfaction of their patients. Be sure and ask them what kind of success rate they have with placing dental implants, and if they have encountered dental implant failure in their practice.
Another way of gauging the satisfaction of patients is reading online reviews about this particular implant dentist and asking others in your community who they had place their dental implants, and if they would recommend them as a viable option. While online reviews matter, receiving a recommendation from a trusted loved one is an even bigger vote of confidence.
Do You Perform the Entire Procedure In-House?
Some implant dentists promote dental implants at their facility, but actually work with a specialist in the area to place the dental implants. Once the implants are placed, you will return back to the original office for the restoration of your implants. It's important to understand the full scope of the procedure beforehand and who will be placing your implants. Finding an implant dentist who can both place and restore you implants in one location can streamline your care and oftentimes minimize your overall cost.
Do You Use CBCT Scanning for Dental Implant Placement?
CBCT (cone beam computer tomography) is an advanced 3D scanning device that can capture images of your teeth and jawbone. These high-resolution images are able to detect surrounding soft tissues, sinus cavities, and nerve pathways to ensure adequate dental implant placement. By using CBCT scanning, Dr. Denes can make sure every implant case is planned with safety and precision, thus increasing the success rate of your dental implants.
What Kind of Sedation Do You Use?
While dental implants can be placed under local anesthesia, finding a dentist who offers additional sedation will provide optimal comfort. Dr. Denes is certified in administering oral conscious sedation for our patients.
Meet Your Fresno Implant Dentist
To meet with Fresno implant dentist Dr. Denes, please contact our office online or by calling 559-297-1294. Finding an implant dentist you trust to place your dental implants will provide peace of mind and increase your chances for a positive experience.