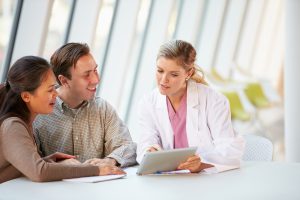 When you gaze at your reflection in the mirror, what do you notice about your smile? Do you have teeth that are missing, broken, severely decayed, or just unattractive? Injury, disease, and normal wear and tear can lead to a host of aesthetic and functionality dental problems. When this occurs, it can negatively affect the appearance of your teeth and keep you from smiling confidently. You may even find yourself hindered in performing basic daily tasks that involve biting down or chewing due to severe jaw pain.
Dr. Denes can completely transform the appearance of your smile with a full mouth reconstruction using a variety of treatment methods. Thanks to digital case planning and advanced technology, your procedure can be completed with maximum benefits. If you want a new and improved smile for 2018 – we can make your dreams a reality. To get started, contact our Fresno, CA office today online or by calling 559-297-1294.
What is a Full Mouth Reconstruction?
A full mouth reconstruction uses a variety of restorative and cosmetic procedures to address certain issues, including:
Misaligned bite
TMJ disorder
Chronic dental pain
Broken teeth
Missing teeth
Severely decayed teeth
Permanently stained or discolored teeth
Unevenly shaped teeth
The dentist will evaluate your smile during a thorough examination and review your concerns. A personalized treatment plan will be designed to address your specific needs in order to help you accomplish your goals.
How Sedation Can Help
Because a number of procedures are often combined at once to complete a full mouth reconstruction, it can make sitting still for prolonged periods difficult. In such cases, oral conscious sedation can be administered. Dental sedation is also beneficial for patients who suffer from dental anxiety. By taking Valium, Halcyon, or another sedative, you can achieve a relaxed state of mind throughout your entire appointment. Under its effects, you will have little to no memory of your time at the office. Dr. Denes typically offers two different doses for patients, one to be taken the night before and one to be taken the day of the procedure, about 30 minutes prior to your appointment. Due to the heavy sedation, you will need to have a loved one drive you to and from your procedure.
Why Digital Case Planning Produces Better Results
During your initial consultation, advanced x-ray technology and 3D imaging will be used to capture images of your teeth and jawbone. Dr. Denes uses a CBCT and intraoral scanner to fabricate your treatment plan. Digital case planning eliminates any guesswork from the process and delivers more accurate results.
A CBCT scanner (cone beam computer tomography) captures immediate 3D images of your teeth, jaw, gums, and sinus cavity. Using specialized technology, the images create a 3D model of your mouth, allowing the dentist to isolate nerve pathways and abnormalities, and determine bone density. This is especially beneficial for patients who choose dental implants as part of their full mouth reconstruction to replace missing teeth. Cone beam technology can also be used for:
Diagnosing TMJ disorder
Evaluating origins of pain
Planning surgery for dental implants or impacted teeth
Planning orthodontic treatment to correct bite disorders or misaligned teeth
An intraoral scanner captures distinct impressions of your teeth, eliminating the need for messy and uncomfortable putty impressions. These impression can be used to create orthodontic devices, TMJ treatment oral appliances, or custom-made restorations. The impressions captured can also be combined with the images captured from the CBCT scanner to fashion a surgical guide for dental implant placement.
With digital treatment planning, you can see what your smile will look like before treatment begins. This gives you the opportunity you to speak into the process and make any necessary adjustments with your dentist to ensure optimal results.
Want a New Smile for 2018?
Let Dr. Denes help you achieve a new smile for the new year. To book your appointment at our Fresno, CA practice, contact us online or give us a call at 559-297-1294.