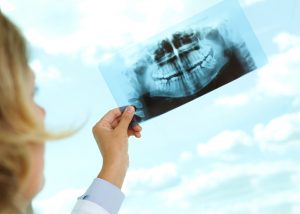 Ensuring optimal dental implant results begins in the preliminary planning stages. The first step of the implant process is digital treatment planning for your case.
Current technology and equipment used in modern dentistry enables precise imaging for ideal implant placement. Intraoral scanners and cone beam computed tomography (CBCT) machines provide a three-dimensional view of the soft and hard tissues in a patient's mouth.
For an implant dentist, identifying the densest part of the jawbone helps determine where the implants should be placed. If the images show that the jawbone lacks essential density for implant placement, the dentist will suggest that you might require bone grafting before proceeding with implant surgery. Detailed 3D images also help you and your implant dentist work out a timeline to complete the steps in the implant process and understand how your mouth will heal.
To schedule an appointment or learn more about imaging for dental implants, contact us at Fresno Dental Scan by calling (559) 297-6823.
Technologies Used at Fresno Dental Scan
Dr. Denes has years of experience in implant procedures and in digital treatment planning for patient surgeries. At Fresno Dental Scan, both a CBCT machine and an intraoral scanner help generate highly detailed images of a patient's mouth for digital treatment planning.
How a CBCT Machine Works
A CBCT machine takes an x-ray of a patient's mouth. The cone beam technology produces 3D images of a patient's teeth, gums, jaw, and surrounding cavities very quickly, showing a level of detail unobtainable with traditional x-rays. The 3D image gives insights into jawbone density and nerve pathways in the mouth, both important for optimal dental implant placement.
Prior to the CBCT scan, patients will need to remove jewelry, hair pins, eyeglasses, hearing aids, and other items of a similar nature that might interfere with the x-ray machine and scan. As with any x-ray procedure, patients are exposed to a small amount of radiation; however, the cone beam technology enables a quicker imaging process than with traditional x-rays, thus reducing high exposure risk.
How an Intraoral Scanner Works
Functioning like a camera, the intraoral scanner takes images of a patient's mouth, producing models of his or her teeth. Scanners can vary in size, ability to capture color, and time required to capture a complete scan. Unlike traditional impressions taken with a mixture and a cast, any errors or missing pieces in the scan can be corrected by beginning the scan again or re-scanning the area that is missing.
How a CBCT Machine and Intraoral Scanner Work Together
The 3D renderings from the intraoral scanner combined with the CT machine's 3D scans create a complete depiction of a patient's mouth systems, which is then used to design a 3D digital treatment plan specifically for his or her case. The dentition of a patient's teeth from the intraoral scanner and the dimensions and density of the jaw, teeth root locations, and nerve pathways from the CBCT scan help the implant dentist understand mouth health, create a guide for surgery, and preemptively address any underlying or otherwise unseen oral health issues.
Benefits of Digital Treatment Planning
Digital treatment planning with a CBCT machine and an intraoral scanner prove useful before, during, and after an implant procedure.
For initial planning, the information from the imaging helps identify any potential issues or peculiarities with your case. The scans are also used to fabricate a surgical guide for use during the procedure.
During the implant placement procedure, surgical guides produced from imaging rest comfortably over the gums and teeth. Access holes in the guide indicating where implants should be placed help ensure accuracy.
Additionally, you and your dentist will have the ability to access and share the digital files with any health practitioner who might also need the information from the scans.
Schedule an appointment at our Fresno, CA dental scan office to learn more about imaging for dental implants. Call (559) 297-6823 today!