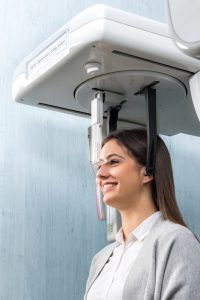 As a child, tooth loss meant a visit from the tooth fairy and a surprise under your pillow. But as an adult, tooth loss can mean difficulty eating, poor dental function, low self-confidence, and costly restorative procedures. If you have recently experienced tooth loss and are overwhelmed with the all the available options to replace your smile, you are not alone.
With the ongoing advancements in the dental industry, dentists today are able to provide patients with a plethora of options to help restore their smiles. One of the most highly recommended solutions are dental implants.
To learn more about the benefits of replacing your smile with dental implants, contact Fresno Dental Studio to schedule your consultation.
Why a CBCT Scan is Important for Dental Implants
If you are interested in dental implants, your dentist will recommend a CBCT scan, also known as cone beam computer tomography to be taken of your mouth during your initial consultation. This technology provides detailed images of your teeth, gums, and jawbone in a matter of seconds, and then converts the images into a three-dimensional model of your mouth to be used for precise surgical planning. Cone beam technology can also determine bone strength, nerve pathways, and immediately detect if there are any abnormalities preventing you from undergoing this procedure.
The success rate of dental implants is dependent on how they are placed and the health of your jawbone. If any bone degeneration has occurred as a result of tooth loss, a CBCT scan will immediately be able to identify the issue. In such cases, the doctor may recommend a specialized dental implant or a bone grafting procedure to help improve your chances for successful dental implant placement.
Once a model of your mouth has been created, the dentist will use it to create a surgical guide that will fit comfortably over your teeth and gums with access holes over the missing teeth. Using this surgical guide during implant surgery will allow the dentist to know exactly where the implants need to be placed, delivering results with better precision.
Other Ways CBCT Can Be Used
In addition to dental implant placement, cone beam technology can also be used when traditional digital x-ray equipment is insufficient in evaluating other oral health issues and planning dental procedures, such as:
Complex tooth extractions (impacted teeth and wisdom teeth surgery)
Detecting abnormalities or tumors in the jaw, sinuses, or nasal cavity
Locating nerve pathways to better understand the origin of pain
Identifying and treating TMJ disorder
Planning orthodontic treatment and other restorative procedures
Evaluating the mouth after serious trauma or injury
Cleft palate analysis
Diagnosing severe tooth decay and root canal damage
If you are unsure why your dentist is requesting a CBCT scan, don't be afraid to ask him why. A dentist who truly cares about you and not just about gaining your business will take the time to sit with you and address any questions or concerns you may have to help bring peace of mind.
Contact Us Today
If you interested in learning more about the importance of CBCT technology and how it can benefit you, contact our Fresno, CA dental practice today to schedule your consultation.