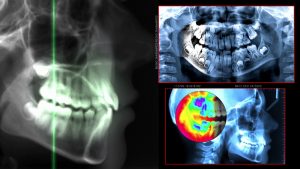 Digital treatment planning ensures accurate dental implant placement, helping the implant dentist from start to finish in planning and completing his or her patient's treatment case. Cone beam computed tomography (CBCT) machines generate three dimensional views of a patient's teeth, gums, and nerve pathways that make planning for surgery, placing the implants, and understanding the specifics of a patient's soft and hard mouth tissues possible.
Commonly used to plan dental implant procedures, dental CBCT scans are also used for:
Planning surgery for impacted teeth
Diagnosing temporomandibular joint disorder
Evaluating the jaw, sinuses, nerves, and nasal cavity
Detecting jaw tumors
Determining jawbone structure and tooth orientation
At Fresno Dental Scan, we have state-of-the-art technology for CBCT scans. Call us at 559 297 6823 to set an appointment for imaging for treatment planning.
Differences Between Traditional X-rays and CBCT Scans
CBCT machines obtain a level of detail unachievable with traditional x-ray machines. CBCT also differs from regular CT scans, although the two can produce similar images. With cone beam computed tomography, the cone-shaped x-ray beam moves around the patient to produce multiple images, also called views. These high-quality images aid in precise treatment planning. Dental CBCT machines are small enough that they can fit in a dental office.
CBCT Scan Procedure
Prior to the procedure, patients will need to remove jewelry, hearing aids, piercings, and other items that could interfere with the imaging. Dr. Denes suggests wearing comfortable, loose-fitting clothing to the exam.
The C-arm, or gantry, of the x-ray machine rotates around the patient's head, capturing images from different angles that will later be pieced together to create a single three-dimensional image. The dentist will position the patient so that areas focused for imaging are centered in the beam.
Patients will not experience any pain from the CBCT scan and can resume normal activities afterward.
Risks and Benefits Involved with CBCT Scans
CBCT scans expose patients to radiation, but for a brief amount of time and with results unobtainable by other means. By following precautions and listening to the instructions of a professional, radiation exposure is limited.
Risks
Unless medically necessary, women who are pregnant should not undergo the CBCT scan procedure.
Children are also more sensitive to radiation, and if necessary, should only undergo a CBCT scan with low-dose technique.
As with any type of x-ray procedure, radiation exposure poses a risk for cancer, but the benefits of a CBCT scan far outweigh the slight risk.
Benefits
The focused x-ray beam results in excellent image quality.
Each scan produces a variety of views and angles of the mouth that can be manipulated for better treatment planning.
CBCT scanning captures images of soft and hard tissues simultaneously.
Use of CBCT Scans
Paired with images taken by an intraoral scanner, the views from the CBCT scan help the dentist fabricate a surgical guide that will be used during the implant surgery. The surgical guide is positioned over the gums and indicates the precise location for implant placement.
CBCT scans also enable a dentist to better understand the specific state of a patient's soft and hard mouth tissues. Unforeseen conditions with a patient's teeth, gums, or jawbone are important to consider when undergoing surgery.
Additionally, images from scans can easily be shared. If a patient or dentist needs to share the images from a scan with another health practitioner, this is possible with permission from the patient. No additional scans are necessary.
Schedule your CBCT scan at Fresno Dental Scan today by calling (559) 297-6823!