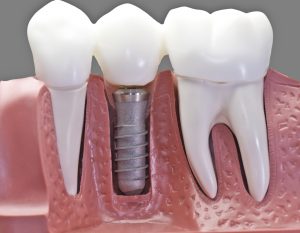 Have you recently experienced tooth loss? Are you overwhelmed with the available tooth replacement options? You are not alone! Tooth loss can be cause for concern, resulting in difficulty eating, speaking, and poor self-confidence. The longer it goes unaddressed, the greater risk you have of developing other oral health concerns, such as dental misalignment and bone loss.
Although traditional dental bridges have proven to be a successful tooth replacement option in the past, a crown and bridge supported by dental implants provides a conservative and long-lasting approach to repairing your smile.
If you are interested in learning more about how to replace your missing tooth – contact Fresno Dental Scan today online or by calling (559) 297-6823 to schedule your consultation with Dr. Denes.
What is an Implant-Supported Crown and Bridge?
An implant-supported crown is ideal for patients missing one single tooth. With this type of restoration, a dental implant is surgically placed in the space left behind by the former tooth. Once the implant has fused with the surrounding tissue and jawbone, a customized crown, made from realistic and durable materials is affixed atop the implant.
For patients missing one to three consecutive missing teeth, Dr. Alex Denes will recommend an implant-supported bridge. This restorative device consists of two dental crowns fused together with at least one artificial tooth (pontic) in the middle. It will be customized to blend with the natural shape and size of your surrounding teeth. Rather than being supported by your remaining teeth, as with a traditional bridge, it supported by two dental implants placed within the jawbone to help bridge the gap.
Benefits of a Crown and Bridge
One of the primary benefits of an implant-supported restoration is its ability to mimic natural teeth. It is the only tooth replacement option available that not only looks and feels like natural teeth, but can replace the entire tooth, from root to crown. Because dental implants are inserted into the cavity of the former tooth roots, it can help stimulate the nerves within your jawbone, preventing soft and hard tissue loss. A stimulated jawbone promotes healthy bone growth and better oral health.
In addition, the implants are permanently bonded to your surrounding bone tissue, making it a long-lasting approach to restoring your smile. Whereas many other tooth replacement options need to be replaced every five to ten years, or can damage your remaining teeth – an implant-supported crown and bridge can last you a lifetime when properly cared for.
Other benefits includes:
Restored dental function and clarity of speech
Realistic aesthetics
Improved self-confidence
Enjoyment of all your favorite foods
A device that is both comfortable and durable
Advanced Technology
With the advancements made in the dental industry, doctors today can deliver dental implant placement with better precision and accuracy. Using cone beam scanning technology, also known as cone beam computed tomography (CBCT), the doctor will identify the best location for your dental implant to be placed, to ensure the longevity and durability of your restorative device. In addition, a special surgical guide can also be created to help direct the doctor in placing your dental implant.
Contact Us Today
To learn more about dental implants and why repairing your smile with a customized implant-supported crown and bridge can improve your oral health, contact our Fresno, CA office today at (559) 297-6823.